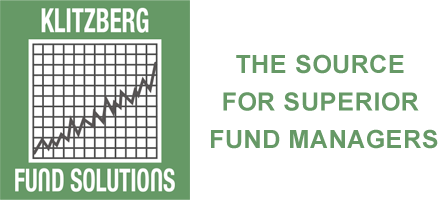 Case Studies
International equity strategy for mid-sized fund sponsor. Was being sub-advised by one of the largest money managers in the world.  Fund had been trailing its fund peer group and benchmark for an extended period.  Klitzberg Fund Solutions was asked by fund sponsor to source specialized managers with highly defined investment processes to analyze and select listed companies in both developed and emerging markets.  Through our research and network, we referred a small group of talented boutique managers with long-term track records in international equities that were top-quartile and investment processes that were rigorous but somewhat different from one another.  Fund sponsor interviewed two finalists and fund board selected new sub-advisor.  Performance has vastly improved and the investment process has proven to be successful across developed and emerging markets and through periods of slow and fast economic growth.
Small cap value for a multi-manager small cap fund. Klitzberg Fund Solutions was approached by multi-manager group within a $1 trillion asset management firm to find differentiated small cap value manager with sufficient capacity.  Klitzberg Fund Solutions sourced small cap value managers through extensive research and networking to find stellar firms with $200 million in small cap value capacity for a sub-advisory mandate.  We assisted multi-manager team with due diligence and review of strategy and investment team in advance of hiring.  Multi-manager small cap fund has greatly benefited from outstanding long-term performance of the sub-advisor and capacity of $200 million has been reached.
High yield bond fund that imploded during great recession. One of the oldest high yield bond funds had experienced excessive volatility and drawdowns during 2008.  Fund sponsor confidentially asked Klitzberg Fund Solutions to find a skilled manager with lower drawdowns, lower volatility, and a focus on fundamental credit research.  We sourced a select group of four experienced credit specialists which were referred to fund sponsor.  Fund sponsor selected two for extensive due diligence by their internal investment teams.  Fund board hired a credit specialist to replace internal management team.  Sub-advisor has generated strong returns with lower volatility.  Manager performed quite well during the severe credit deterioration in the energy sector following the decline in oil and natural gas prices in 2013 and 2014.